Submitted by

jono

on 23 Aug 2021.
I accepted the income that summer tourism brings, rented out my home, and flew to Norway somewhat depressed about the carbon footprint these choices would lead to. It is difficult to be green.
At least the real journey started by bus. That delivered us to Inari in Finland, and the south-west corner of an enormous lake system that I had passed on the final leg of a previous journey.
In the back of the bus we each had an O'Shea 13' Explorer inflatable paddleboard. We had a pump too, and were soon ready to head away into what promised to be wilderness.
With the paddleboards we journeyed through lake and forest to river and sea. ~1.5 litres of petrol covered all needs for cooking and hot drinks. Phones for navigation were charged by solar. Food had been carefully chosen to minimise packaging waste and weight. Fish and fresh berries supplemented our diet and kept scurvy at bay.
Helene was new to SUP, although we had done a three-day warm-up trip the week previous. Even so, it was a steep learning curve!
For me, in retrospect, there are many highlights to speak of: re-'discovering' routes that previous dwellers of the region would have known well, Helene's transition to competence and confidence, the fun of descending the river, the first taste of sea air after many days inland...
With the air travel and new paddleboards to offset, it can't be claimed that this was an eco-friendly trip. But at least once underway it did minimal environmental harm, and that is a highlight too.
Overview of the complete track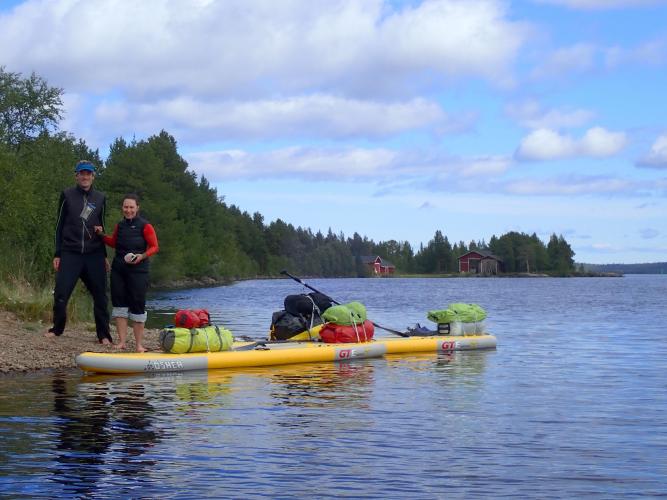 Departure photo from Inari (the settlement)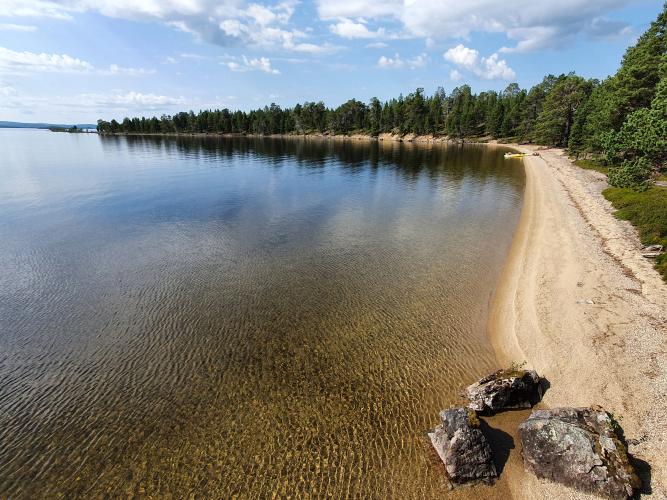 The sandy islands were in a small minority, but well worth paddling for
This is more typical. A thunderstorm followed soon after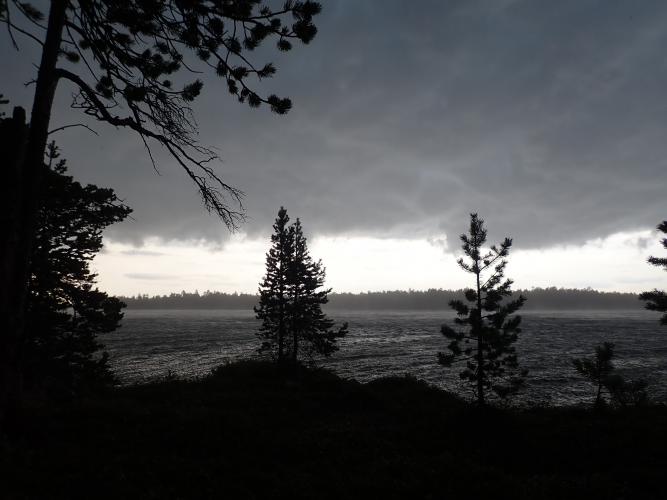 Drysuit weather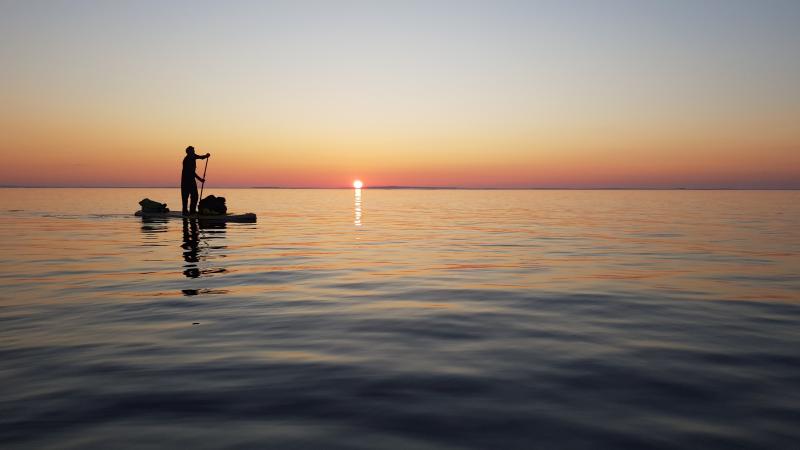 To cross to the middle chain of islands we waited for the calm of evening. The sun dipped below the horizon briefly but it never got dark.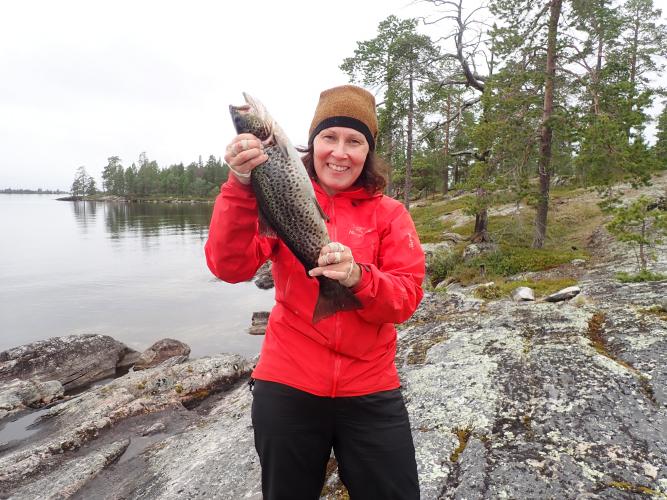 Dinner on an island of the central archipelago
A shortcut - the Kuuvi Canal - dug with a shovel over a period of 10 years by a local who hoped to charge people for passing through
Moored up next to a moraine outcrop
SUP siesta, north end Inari lake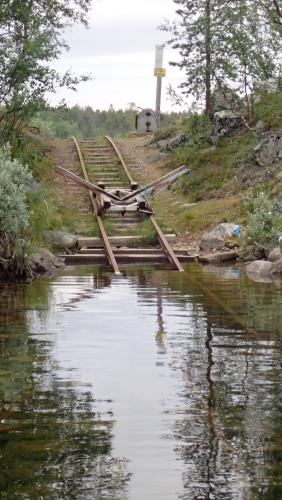 From Inari we climbed from lake to lake. Between these two we took the train.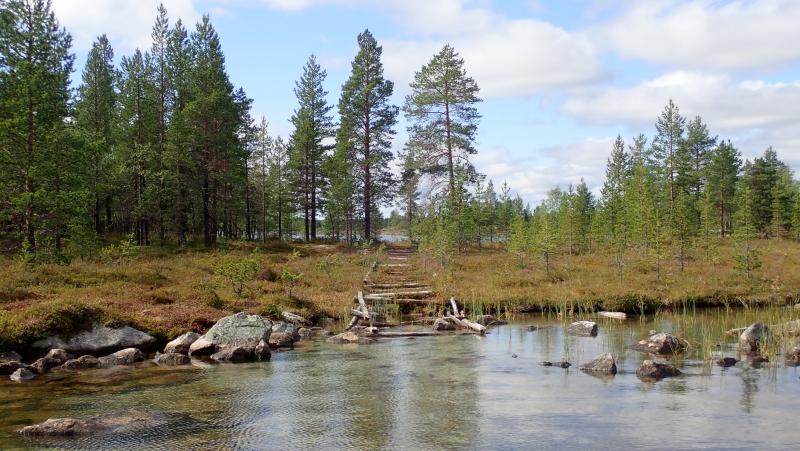 The wooden track here would have been used for pulling boats across
This long and narrow outcrop is an esker, probably formed from depostis of a sub-glacial stream
Other times there was a longer hike. Each hike was in triplicate (boards first, then back for the gear)
Ghosting through a grey morning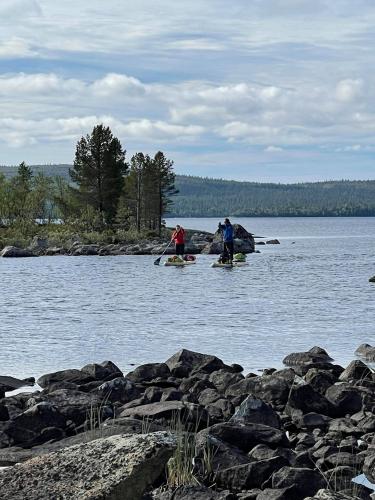 On day 9 we reached a road, and crossed it. We had organised a food drop here.
Next (after waiting out a day with bad weather) came lakes and rivers descending to Neiden River.
We went several days without the fins (and were lucky not to have broken them with earlier rock strikes!)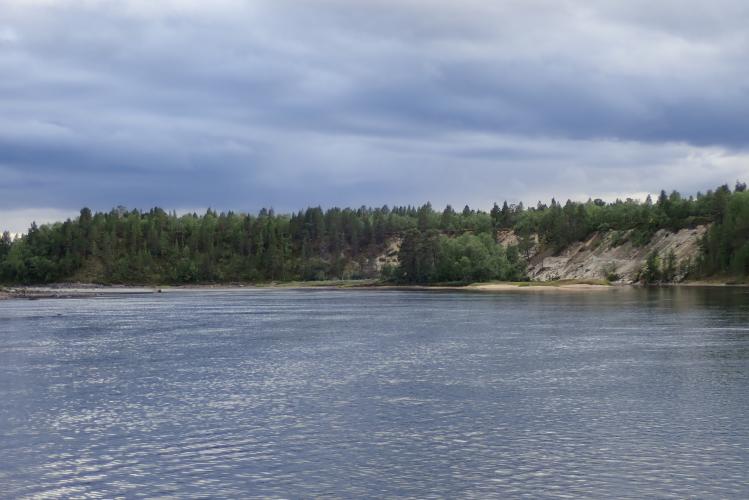 Neiden river. Bigger, wider and longer stretches with gentle paddling.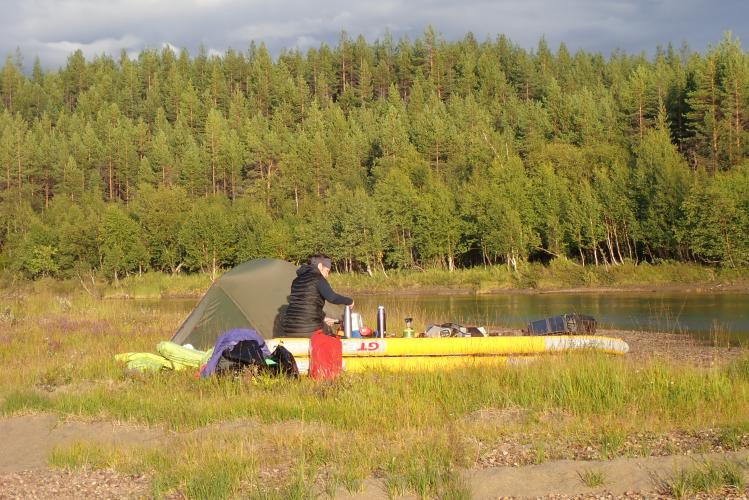 Camp spot on an island in Neiden river
Surveying the river from a sandcastle
If we paddled sections like these we crossed them in no time, and it was super fun, but the boards took too many scrapes for it to be an advisable strategy
Neiden falls (one of several sections that were walked!)
We went past a strawberry farm and had to stop
And that evening reached the sea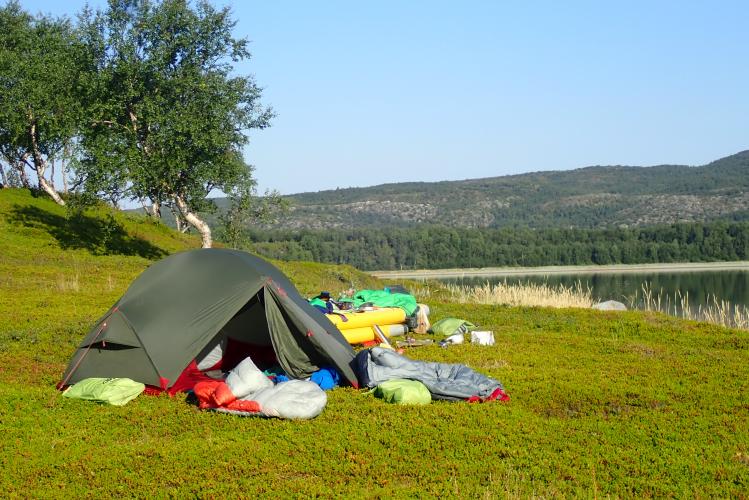 Beyond perfect this camp spot
That's a minke whale mid-fjord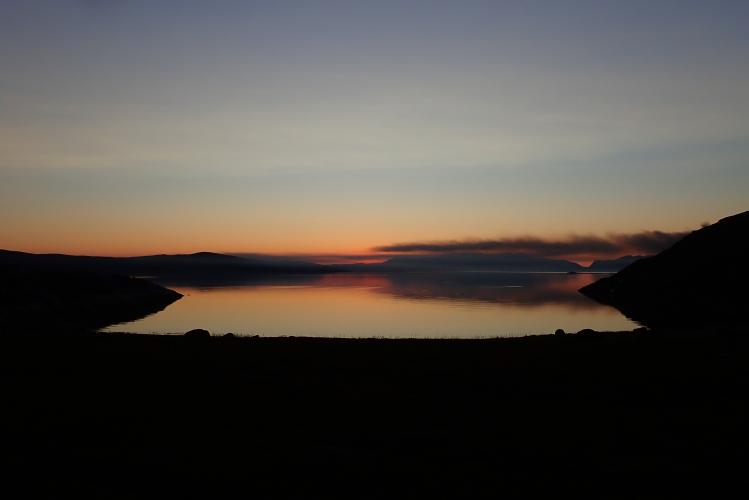 Final camp spot of the journey. Nights darker now.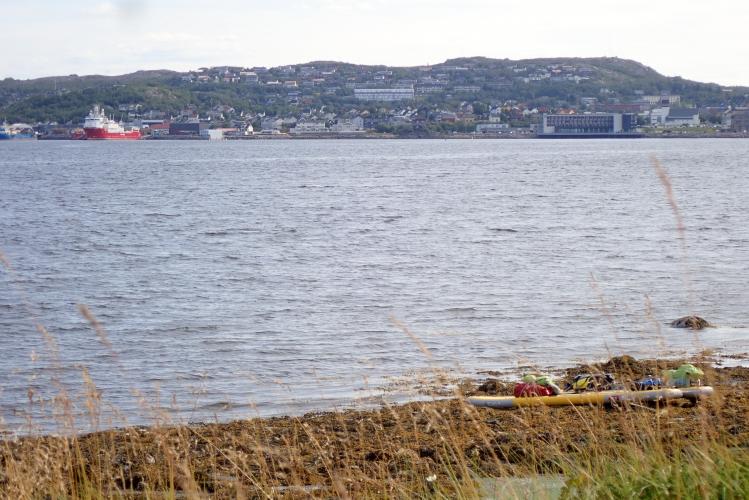 A headwind to reach Kirkenes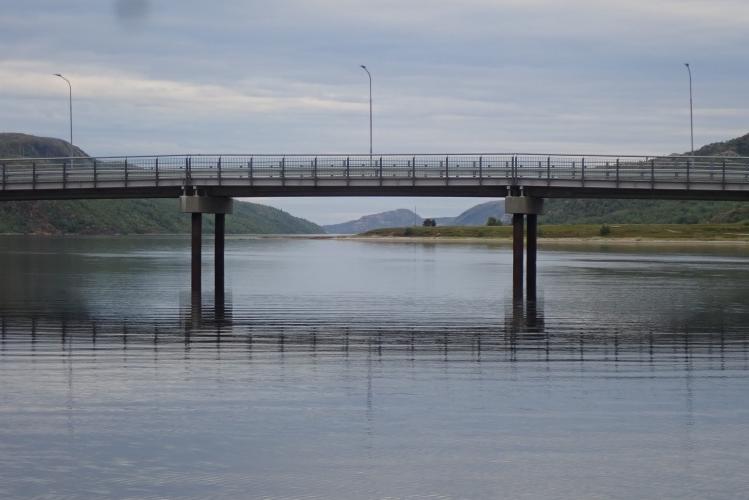 Sandnes bridge (Sandnesbrua) - the finish line of the paddle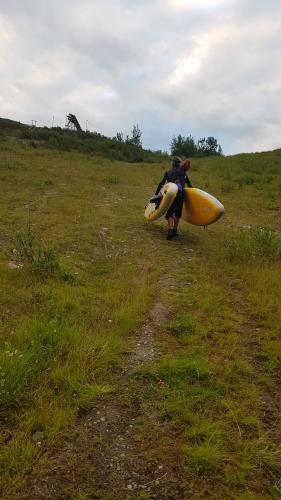 And the final ascents home for a cup of tea.
Comments
Martin Edwards
posted 27 Aug 2021
Hi Jono
you had more fun than here in Clacton I think most of the South westerlies have been replaced by Northerlies
Good for a trip to Margate! No such thing as bad wind Martin... (In a nautical sense!)
D Laird
posted 27 Aug 2021
Fantastic Jono! Dreaming about adventures from lockdown here in Sydney. Albeit camped in the garden last night with daughter and about to go and put a few km's and hit some trails on the MTB; could be worse!! Wonderful pics. Doug
Good on you Doug. Sounds like you are doing well and staying positive. Spanish lockdown was a test, and the bike was my savour through that.
Erik Dossett
posted 30 Aug 2021
I am not affiliated with this - but I like the idea - www.frogfishfin.com -- a folding fin . I've made a couple of versions on my own before I saw the frogfish fin. It will work with any US finbox. After that - at least a soft rubber fin is a good thing for streams/rivers. Loved your images. Thoughts on the poor digger of Kuuvi Canal - no fees collected for 10 years work! - Erik
Interesting, Erik.
We were lucky and after rock strikes (the same rock!) our fins kicked back unharmed. The plastic boxes seem to have enough flexibility to allow the bolt to escape which is either good luck or good design!
Spring loaded fins were a thing back in 1983 with the Mistral Take-Off! Could be useful but for SUP. I think I prefer the idea of a long (in a horizontal sense) but shallow fin that is for directional stability but also to protect the finbox and board itself from groundings - something designed to take the hits in preference to the more fragile parts of the board taking them.
Add new comment